Once the child is 90 days old, parents must add her to the family health floater cover, suggests Sanjay Kumar Singh.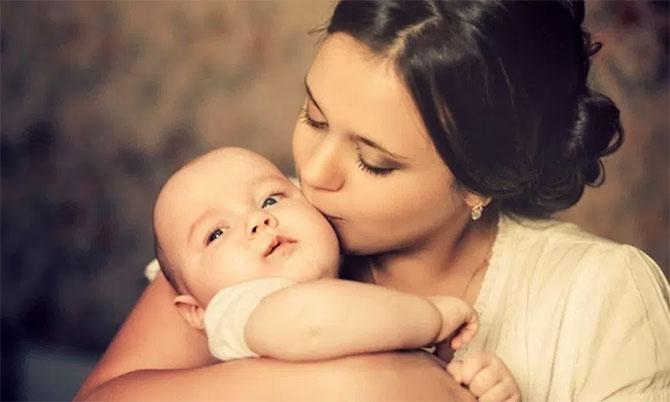 Health care costs are up, and not only for the elderly.
Nowadays, hospitals aggressively urge parents to go for annual health care check-ups for children -- starting from toddlers to high schoolgoers -- as well, and most of them have packages for the same.
And a couple with a newborn can suddenly see expenses shooting up.
The health care costs begin even before the child is born.
Besides the usual check-ups, a normal delivery at a branded hospital can cost Rs 50,000 to Rs 70,000, while a C-section can cost Rs 100,000 to Rs 150,000 in a metro.
"Most health insurance policies do not provide for this cost, so it may have to be paid out of pocket. Some policies cover it, but only after a waiting period of one-four years," says Amit Chhabra, business head, health insurance, Policybazaar.com.
The health cover provided by the employer may cover maternity expense, but often only up to Rs 25,000 to Rs 50,000.
This will most likely be insufficient.
Chhabra suggests that if you decide to buy a health policy that also covers maternity cover, do so right after marriage, so that the waiting period is over by the time the child is expected.
Once the child arrives, expect to make at least one visit each month to the paediatrician.
In a metro, parents can end up spending Rs 10,000 to Rs 30,000 annually just on normal check-ups and vaccinations during the first couple of years.
Today, parents opt for painless vaccination, which causes minimal discomfort at the time of administration and also does not trigger fever later.
But such vaccines cost three-four times as much as the normal ones.
Children are also more prone to infections and injuries, compared to, say, adults aged 30 to 45.
Hospitalisation due to such an event can result in a bill of Rs 150,000 to Rs 500,000, or higher.
Once the child is 90 days old, parents must add her to the family health floater cover.
Some insurers allow this at all times of the year, and some only at the time of renewal.
In the latter case, the child could be without a cover for a few months.
With the number of persons in the policy rising, the sum insured should be hiked.
This can be done at the time of premium payment.
"The sum insured must go up by at least 30% to 50% when a child is added," says Ashish Yadav, vice-president and head-products department, ManipalCigna Health Insurance.
The sum insured that a family requires depends on a number of factors, including its budget.
"Going by the pace at which health care costs are rising, a sum insured of Rs 10 lakh is advisable. Rs 5 lakh is the least a family should have," says Gurdeep Singh Batra, head-retail underwriting, Bajaj Allianz General Insurance.
As soon as a family decides to have a child, it should start building a corpus to meet the associated expenses.
Though its size would vary depending on the family's circumstances, Renu Maheshwari, Securities and Exchange Board of India-registered investment advisor, and co-founder and principal advisor, Finscholarz Wealth Managers, offers a few ballpark figures.
"First, the couple needs to accumulate an emergency fund equal to three-six months of expenses. In addition, if the wife is an earning member, she should accumulate at least two years of personal expenses. She should also set aside money to meet two years of the expenses she was taking care of," says Maheshwari.
Young women, she says, often overestimate the probability of going back to work once their six months' paid maternity leave gets over.
She suggests using an equity fund to raise this corpus if the time available is more than three years and a balanced fund if the time is less.
Closer to childbirth, the corpus should be moved into a liquid fund.
---
Sanjay Kumar Singh covers personal finance for the Business Standard newspaper.